Online Scripture Study Offerings
at the Benedictine Peace Center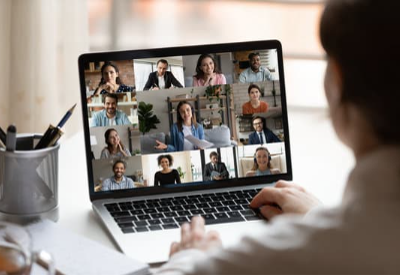 The Word of God is Alive and Active!
What do the Scriptures mean for my life? How can something written 2000 years ago speak to me today? What can these strange stories, with old-fashioned examples, tell me about how I should live?  The answer is that we believe the Holy Spirit is alive and well, and speaks to us through the Bible as we can hear.  "The Word of God is alive and active (Hebrews 4:22)."  In our sharing groups, we may learn about the times and places of the Bible, but more importantly, we share and pray about how these words can shape our lives today.
Download our brochure to learn more about our study of the Psalms. Share this flyer to help us spread the word.
Scripture Study: The Psalms, Part 2
Wednesday Mornings, 9:30-11:00 a.m. (CST)
OR
Wednesday Evenings, 7:00 – 8:30 p.m. (CST)

Meetings on Zoom with an option for in-person participation at the Benedictine Peace Center
Part 2, beginning February 14
Seven Sessions, Lent 2024

The Psalms are the prayers of the Jewish people, going back to King David. They were the prayers that Jesus learned and our prayers today too. We pray them together as Church, and each find unique, personal meaning in them.
In the Lenten session, we will use the Little Rock Scripture Study resources to focus on the royal psalms, psalms of lament, and psalms of declarative praise (thanksgiving).
Mary Jo Polak, OSB will facilitate the seven sessions of Part 2, beginning February 14, 2023.  During the Wednesday gatherings, participants will share questions and insights, watch a video, and take time to pray the psalms and experience how they can be part of daily prayer through the Liturgy of the Hours.
For those in the Yankton area, plans are being made for a discussion group to meet in person on a trial basis at the Peace Center concurrently with the online Zoom group. Please contact S. Mary Jo if you are interested in this option.
For more information, e-mail maryjo.polak@yanktonbenedictines.org,
call 605-668-6021, or complete the registration form to the left.
Please register by February 7.
Registrants will need to order the text and study guide. E-versions are not available. Those who participated in the fall study already have the text.
You may pay at the time of online registration or send a check for $75 to the Benedictine Peace Center, 1005 W. 8th St., Yankton, SD 57078, or pay using PayPal with this link: www.yanktonbenedictines.org/retreat-center/payment/.